Louise Urch
GHR Reg, MNCP, GQHP
Louise has recognised qualifications in Hypnotherapy, Psychotherapy and Life Coaching and is a member of the National Council for Psychotherapy and Association For Coaching. She is registered on the General Hypnotherapy Register and meets the professional requirements of clinical supervision and Continued Professional Development.
Louise has over fifteen years' successful work experience in the health and social care field working with people with a variety of mental and physical health conditions and social issues.
As a qualified Occupational Therapist (BSc Hons Occupational Therapy) Louise worked in the NHS for a number of years, specialising in mental health. She supported people with a variety of conditions including stress, anxiety, depression, eating disorders, obsessive compulsive and addictive behaviours to achieve their unique life goals, develop healthier lifestyles and increase their independence.
Louise had a strong interest in the field of Hypnotherapy for many years prior to commencing training and found that it fitted well with her desire to work collaboratively with people to achieve their goals as well as enabling her to utilise the skills that she had already developed from her previous therapy based career.
Having experienced Hypnotherapy herself Louise could soon see the improvements it produced in her own life and was keen to share these benefits with others.Louise is also trained in a variety of other skills and techniques including Life Coaching, Neuro Linguistic Programming, Motivational Interviewing and the Solution Focussed Approach that can be used in conjunction with Hypnotherapy to further support you to achieve your goals.
Louise is non-judgemental and respects people's unique goals and their individuality.
For further information please contact Louise:
07860385578 or email: info@positivestateofmind.co.uk
Links:
Caritas School

Looking for the Caritas School of Reflexology?
Therapists room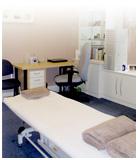 If you are a self employed holistic therapist and want to become part of the Caritas natural health team, we have two well equipped and beautifully designed rooms for hire.