Amy Needham
Amy is a member of the BACP (British Association for Counselling and Psychotherapy). This ensures that she works to the standards required as an independent practitioner and adheres to its ethical framework.
In addition to Amy's private practice, she has worked with ISAS (Incest and Sexual Abuse Survivors, Newark) on a voluntary basis for 3 years.
Amy offers Person Centered Counselling integrated with Cognitive Behavioral Therapy, as appropriate. She is friendly and approachable and ensures you feel safe and comfortable so a professional, trusting relationship can be formed.
Following 5 years training at West Nottinghamshire College, Mansfield Amy holds the following qualifications:-
Level 2 Certificate in Counselling Skills

Level 3 Certificate in Counselling Studies

Level 4 Diploma in Therapeutic Counselling
Links:
Caritas School

Looking for the Caritas School of Reflexology?
Therapists room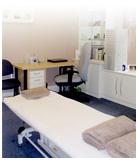 If you are a self employed holistic therapist and want to become part of the Caritas natural health team, we have two well equipped and beautifully designed rooms for hire.