Dana Parker
BEESTON PREMIER SPORTS MASSAGE THERAPY
Dana has worked in the fitness industry teaching exercise classes for 3yrs and has been a sports massage therapist for 18 months.
She has a keen interest in the biomechanics of the body and how lifestyle can have an impact on posture leading to muscular imbalances.
Dana uses a holistic approach during her consultation to get to the root of the problem which is followed by a postural assessment.
As a Pilates Instructor, Dana has an eye for posture and recommends exercises and stretches to help improve overall strength and wellbeing.
Links:
www.beestonpremiersportsmassage.co.uk
Caritas School

Looking for the Caritas School of Reflexology?
Therapists room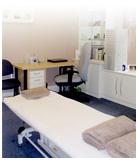 If you are a self employed holistic therapist and want to become part of the Caritas natural health team, we have two well equipped and beautifully designed rooms for hire.