Hannah Weden
Hannah is an experienced physiotherapist who specializes in musculoskeletal pain and management of acute and chronic presentations.
Hannah qualified in 2002 from the universtity of Hertfordshire and has worked within musculoskeletal specialties over the past 15 years. She has a broad experience across acute injuries and also more developed chronic conditions.
She works with orthopaedic coditions and sprots injuries, spinal problems, antenatal and post natal pelvic pain, oncolagy patients experiencing pain after surgery and radioatherapy to name a few. She continues to work in the NHS and has also worked in the private sector over the past 10 years.
Treatment approaches:
Tailored excercise rehabilitation and maintenance programs
Injury Prevention
Soft tissue and joint mobilisation
Taping
Acupucture
Hannah is passionate about optimizing pain management and function to facilitate physical health and well being. She is keen to support those living with long term conditions with review of self mangement approaches and access to physiotherapy treatments as needed.
Chartered Physiotherapist
Health Care Professions Council (HCPC) Registered
Acupuncturist, trained 2009, member of the Association of acupuncturists in physiotherapy (AACP)
Links:
Caritas School

Looking for the Caritas School of Reflexology?
Therapists room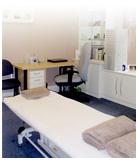 If you are a self employed holistic therapist and want to become part of the Caritas natural health team, we have two well equipped and beautifully designed rooms for hire.