Lucy Shaw
Lucy Shaw studied Beauty Therapy for three years, she gained her qualification in the Summer of 2001.
Since then she has worked in three salons and took on management roles in each. she then chose to take the next step in her career and opened her own salon "Effortless Beauty", which is noe situated within caritas Clinic.
Her aim is to offer her clients exceptionally high standards and professional quality treatments, with afriendly and welcoming apprach at affordable prices.
Lucy's greatest achievements in her career so far:
Winning Student of the Year
Winning Saks Skills Therapist of the Year
Finalist: Thearpist of the Year in the Professional Beaty awards
Winner of Best Small Business of the Year in the I Love Beeston Awards 2015
We hope you enjoy your treatments at Effortless Beauty. Please click here to visit Lucy's website.
Caritas School

Looking for the Caritas School of Reflexology?
Therapists room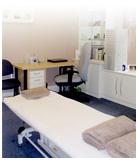 If you are a self employed holistic therapist and want to become part of the Caritas natural health team, we have two well equipped and beautifully designed rooms for hire.