Testimonials
Here are a few testimonials from our clients...
Debbie,
I have endured a chronic health condition since 1994. Since Debbie took over and began practising at Caritas in April 2006, she has treated me once a week. The treatments are tailored according to my current state of health and useful health advice is also often given. Debbie's treatments help to relieve the symptoms of my condition and thereby improve the quality of my life. She is always professional and friendly and I look forward to my weekly appointments. I cannot recommend her highly enough.
Tracey S
Dear Debbie,
Just a few words to express my appreciation of the treatment I receive at the Caritas Clinic in Beeston. Before coming to the clinic I had many problems with my back and joints, etc as you know. The treatment I received has made a terrific difference, and having attended the clinic for some considerable time, demonstrates, I think, how much I value the service. Whether it be reflexology or a massage I always came away with a sense of well being. I meant to write this note some time ago, but failed to do so. Nevertheless my continued attendance at the clinic says more than words.
Thank you again,
Frank
I get immediate relief from swollen legs and feet. I can feel sluggishness being lifted and energy levels being rebalanced throughout my whole body. I walk away from each session a happier and healthier person.
Many thanks,
MT
Debbie is an excellent reflexologist in every respect. Very thorough and caring for her clients. She has treated both my husband and myself for some considerable time and the pain relief and improvemnt in both physical and emotional well-being is amazing.
A reflexology treatment with Debbie is the highlight of any week and a real "treat" to look forward to.
MB
Caritas School

Looking for the Caritas School of Reflexology?
Therapists room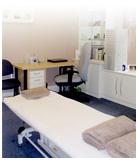 If you are a self employed holistic therapist and want to become part of the Caritas natural health team, we have two well equipped and beautifully designed rooms for hire.