Treatments
All therapies shown in the menu on the left hand side of the page are available at Caritas Clinic.
If you are unsure which therapy you require for your specific condition, please do not hesitate to contact the clinic and speak with one of our experienced therapists who will be happy to advise you.
We are a busy clinic and sometimes are unable to answer the phone, your call is very important to us so please leave a message and we will endeavour to return your call as soon as possible.
Thank you
Caritas School

Looking for the Caritas School of Reflexology?
Therapists room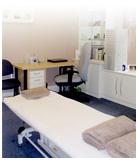 If you are a self employed holistic therapist and want to become part of the Caritas natural health team, we have two well equipped and beautifully designed rooms for hire.